A Guide To I Love Lucy
Elizabeth Patterson
("Mrs. Trumbull")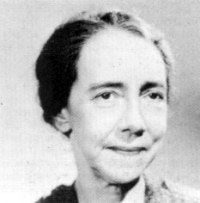 After Little Ricky was born in the second season, another new character was added: Mrs. Trumbull, the Ricardos' upstairs neighbor. She was played by Elizabeth Patterson.
Elizabeth Patterson was born on November 22, 1875 in Savannah, Tennessee, a small town on the Tennessee River. Her father was a Civil War soldier. She had a movie career that spanned thirty years, beginning in 1926.
Patterson first guest-starred on I Love Lucy as "Mrs. Willoughby" in the first-season episode, "The Marriage License". In that episode, she even got to sing, something she never did as Mrs. Trumbull. You can hear her sing "I Love You Truly".
Later, in the second season, after Little Ricky was born, the writers of I Love Lucy realized that they may have a problem. The show's humor revolved around their crazy antics. And they wouldn't have much of a chance to do them if they had to keep an eye on Little Ricky the whole time. Even if they took Little Ricky with them on their adventures, they would have to act responsible around the baby, and this might make some situations less funny. So a new character had to be added who would be a babysitter for Little Ricky. Whenever the Ricardos and Mertzes went on their adventures, they would leave Little Ricky with his babysitter. That way, they would be free to do their crazy things, and entertain the audience. So Elizabeth Patterson joined the cast as Mrs. Trumbull. She played the recurring role until the last season.
After her last appearance on I Love Lucy in 1956, she appeared in a few more movies, and then retired in 1960. She died on January 31, 1966.
Miss Patterson never married. During her thirty-year movie career, she lived alone at the Hollywood Roosevelt Hotel.
---
Lucille Ball Desi Arnaz Vivian Vance William Frawley Jerry Hausner
Elizabeth Patterson Doris Singleton Richard Keith Mary Jane Croft Frank Nelson