A Guide To I Love Lucy
Frank Nelson
(A frequent guest star)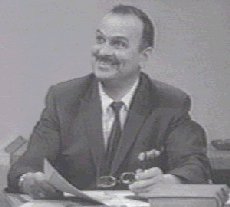 Throughout the episodes of I Love Lucy, you might notice that different roles tend to get played by the same guest stars. You see a guest star play a role in one episode, and then later in another episode, you see that same actor in a different role. This same actor plays various roles in different episodes on the same show. This was common throughout TV shows of the 1950s and 60s, and I Love Lucy was no exception. As you watch different episodes, you might notice the same actor playing different roles.
As this continues, you might become familiar with the faces of the various "frequent guest stars" who pop up every now and then. You might say "Oh yeah, I remember that guy. He played (such and such a role) in that episode I saw last week." This tends to happen in the series.
But there is one "frequent guest star" in particular that tends to be more noticeable than others. If you watch enough episodes, you might notice one guest star in particular who pops up every now and then, and you're more likely to notice and remember him than you would another frequent guest star. He's a man with a mustache who has a strange voice. His voice sounds nasal, like a cartoon character. Whenever you see and hear him, you're more likely to think "Didn't I see this same guy in a different role one time?" Whenever he pops up, he's almost as much a character as are the Ricardos and Mertzes. And he tends to give the episode a little extra something. You're more likely to think that this episode is going to be good because he's in it. And you're more likely to remember the episode.
You might have noticed this man with the strange voice. You might remember him as Ralph Ramsey, Betty Ramsey's husband during the last season. Or you might remember him as the myopic waiter in a restaurant, who is frustrated by Lucy's constantly changing her dinner order in "Lucy Changes Her Mind". Or you might remember him as the police sergeant who believes that Lucy and Ethel are notorious pickpockets in "Ricky And Fred Are TV Fans". But most fans remember him as Freddy Fillmore, the game show host in the episodes "The Quiz Show", "Lucy Gets Ricky On The Radio", and "Lucy's Hawaiian Vacation". He's an actor who seems to be just as crazy as the Ricardos and the Mertzes are.
If you've ever wondered about this man, who he is, this web page can answer that. The man with the strange voice is Frank Nelson, a radio and TV character actor who was in the voice business for sixty years.
Frank Nelson was born on May 6, 1911. His career began in 1926, when he was a teenager. He auditioned for, and got, the regular role of a husband on a local radio series on KOA in Denver, Colorado. The series lasted six months. Then he worked as a radio announcer at KFEL in Denver.
In 1929, he went to Hollywood and did more work for radio shows. He worked on a lot of drama shows, mostly as a leading man. In 1932, he briefly returned to announcing. Around this time, he married actress Mary Lansing (Lansing even guest-starred on I Love Lucy herself once. She was the voice of Cynthia in the episode "Ethel's Birthday".)
Finally, in 1933, Nelson started working freelance in both jobs. Sometimes he would act on the radio. Sometimes he would announce. He would just work for whomever hired him for whatever voice job. From then until 1954, he did voices in over 130 different radio shows, as either actor or announcer, or both. He appeared in "Burns And Allen", "Amos 'N Andy", "One Man's Family", "Lum And Abner", "Fibber McGee And Molly", "Sherlock Holmes", "Gene Autry's Melody Ranch", "The Great Gildersleeve", "The Life Of Riley", "Ozzie And Harriet", "Abbott And Costello", "The Bob Hope Show", and many many more. Among them, he sometimes appeared on Lucille Ball's radio show, "My Favorite Husband".
Most of these jobs were guest jobs. But sometimes he got a regular role. He was a regular performer playing various roles on "The Jack Benny Show" for over twenty years. He was also a regular performer on other shows, like "The Joe E. Brown Show", "The Sealtest Show", and "Baby Snooks". He was the regular announcer for "Shell Chateau" and "Lux Radio Theater" for a while. He played the regular role of Herb Woodley, the next-door neighbor on the sitcom "Blondie" for six years. All throughout the age of radio shows, he was a busy man.
In 1949, Nelson made his movie debut in Down Memory Lane.
In the early 50s, he moved into TV. He was a regular performer on The Hank McCune Show and the TV version of The Jack Benny Show. The fans of Jack Benny's show in particular were familiar with Nelson and his crazy voice. He was known for his trademark lines "Yeeaass!" and "Ohhh, do I?"
And of course, it was during these years that he made several guest appearances on I Love Lucy.
After Lucy, Nelson continued to moonlight while he was working for Jack Benny. He was a regular performer on The Betty White Show, a 1958 variety show. He also provided voices on The Jetsons (1962-63), and from 1963 to 1966, he provided voices for The Flintstones.
He continued to do cartoon voices throughout the 70s and 80s. He also did some occasional TV guest roles. His last appearance was providing the voice of the hotel clerk in the 1986 animated special Garfield In Paradise. He died on September 12, 1986.
Here is a rundown of the episodes that Nelson appeared in:
Episode #5: "The Quiz Show" (Freddy Fillmore, the game show host)

Episode #32: "Lucy Gets Ricky On The Radio" (Freddy Fillmore, the quiz show host)

Episode #56: "Lucy Changes Her Mind" (the myopic waiter driven crazy by Lucy's indecisiveness)

Episode #65: "Ricky And Fred Are TV Fans" (the police sergeant who thinks Lucy and Ethel are notorious pickpockets)

Episode #79: "The Million Dollar Idea" (Dickie Davis, the host of a TV show)

Episode #88: "Lucy's Hawaiian Vacation" (Freddy Fillmore, the game show host)

Episode #103: "Ricky's Movie Offer" (Ben Benjamin)

Episode #132: "The Great Train Robbery" (the train conductor)

Episode #153: "Return Home From Europe" (the customs officer)

Episode #171: "Lucy Gets Chummy With The Neighbors" (Ralph Ramsey, Betty Ramsey's husband)

Episode #178: "Country Club Dance" (Ralph Ramsey, Betty Ramsey's husband)
---
Lucille Ball Desi Arnaz Vivian Vance William Frawley Jerry Hausner
Elizabeth Patterson Doris Singleton Richard Keith Mary Jane Croft Frank Nelson