A Guide To I Love Lucy
William Frawley
("Fred Mertz")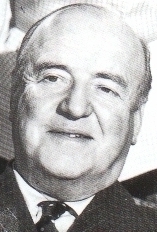 William Frawley was born on February 26, 1887 in Burlington, Iowa.
Frawley went into vaudeville. He was a song-and-dance man and a comedian. His courtly Irish manner made him an audience favorite. In 1914, he married Edna Louise Broedt. Later he was the first performer to sing the song "Melancholy Baby" in vaudeville. ("Melancholy Baby" has become a classic song of the pre-rock and roll era.) During the 1920s, Frawley performed a vaudeville song-and-dance act with his wife. They divorced in 1927. After this experience, he was bitter towards women. He never remarried.
In 1927, Frawley was 40 years old, and was losing his hair. He looked older than he actually was. But he spent several years appearing in Broadway musicals, such as "Bye Bye Bonnie", She's My Baby", and "Here's Howe!" He started drinking too much, and that ended his stage career. But before his stage career ended, he got a big break. He appeared in the Broadway play "Twentieth Century". Paramount Pictures saw him in the play, and signed him to a movie contract. He went to Hollywood in 1933.
Over the years, Frawley played character roles in many movies, including One Night In The Tropics (1940), which was the movie debut of Abbott and Costello, Going My Way (1944) with Bing Crosby (which won the 1944 Academy Award for Best Picture), Monsieur Verduox (1947) with Charlie Chaplin, and three movies in the Blondie series. At one point, he appeared with Lucille Ball in the movie Ziegfeld Follies (1946), but they didn't have any scenes together. Out of all of Frawley's movies, perhaps the most famous one was the Christmas classic Miracle On 34th Street (1947). He played the judge's political campaign manager at the trial. Next time you see the classic movie, watch for Frawley. He is the man who makes the monologue in the judge's office, advising the judge not to rule that there is no Santa Claus.
During Frawley's movie career, his drinking problem continued. He eventually acquired a reputation for being an alcoholic, which made film producers reluctant to hire him. By 1950, his acting career had fizzled. Then in 1951, he heard about I Love Lucy.
Frawley was a bigot, and prejudiced against minorities, including Latinos. But he swallowed his pride, and called Lucille Ball. He asked her "Do you need a good actor to play Fred Mertz?" Lucy and Desi thought that it would be great to have a old movie veteran in the cast. But Frawley had a reputation for being unstable and a constant drinker.
Desi met with Frawley, and laid it on the line. Frawley would be cast as Fred Mertz. But he would have to control his drinking. If he was late for work or if he was unable to perform more than once because of his drinking, he would be fired. Frawley agreed. As events turned out, he was able to control his drinking, and he never let it interfere with his work. He ended up playing Fred Mertz throughout the entire run of the show. It became his most famous role.
After I Love Lucy ended, Frawley continued the role of the show's successor, The Lucy-Desi Comedy Hour. When that show ended in 1960, Frawley got another job. He played Bub O'Casey on the 1960-72 TV series My Three Sons. He played the role until 1965, when he had to quit, for health reasons.
Frawley's last TV appearance was a guest role on Lucille Ball's series, The Lucy Show, in October of 1965. He died on March 3, 1966. He is buried in the San Fernando Mission Cemetery in Mission Hills, Los Angeles, California.
---
Lucille Ball Desi Arnaz Vivian Vance William Frawley Jerry Hausner
Elizabeth Patterson Doris Singleton Richard Keith Mary Jane Croft Frank Nelson